Details
---
Identity:
ChemicalName: Poly-tert-butylphenoldisulfideCAS NO.: 60303-68-6Molecular formula: (C10H14O)X(CI2S2)y
Structural formula: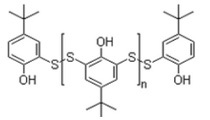 Physical and chemical properties:
Appearance:Brown Granulation
Sulfur content %:27.0-30.5
Softening point℃:90Min
Usage:
1. Alkylphenol disulphide contains active sulfur, it hasexcellent heat resistance, high tensile strength, can be used as vulcanizingagent for natural rubber or synthetic adhesive products.
2. Has co-vulcanization to various polar rubber, such as: favorable adhesionproperty among natural rubber, chloroprene rubber adhesive, butyl rubber andethylene-propylene diene copolymer.
3. Some or all substitute for sulfur, DTDM in semi-effective or effectivevulcanization system. The product will not generate N-nitrosamine gas insulfidation.
4. The product has tackifying and oxidation resisting effect.
5. Especially in vulcanization of natural rubber, chlorinated butyl rubber, brominated butyl rubber, butylrubber and other rubbers, they can be simultaneously vulcanized. The vulcanized rubber has high tensileproperty, excellent heat resistance.
6. Good compatibility.
7. Suitable for inner glue, side wall, tread rubber, sealing gasket, conveyorbelt, etc. for tyre, the reference dosage is 0.5-5 parts.Safety:Please see ourMSDS. Packing: Packingin 25kg bagStorage:To be stored in cool and ventilated warehouse, avoiddirect exposure to sunlight. WANOX300belongs to Zibo Wanke Chemical Co.,Ltd. all
It is equivalent to the following products:VB-7