Details
---
Band Name:WANOX 300
Identity:
Chemical Name:4,4'-thiodi(6--tert-butyl-m-cresol)
CAS NO.:96-69-5
Molecular formula:C22H30O2S
Molecular weight:358
Structural formula: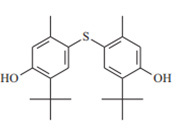 Physical and chemical properties:
Appearance:White Crystalline Powder
Purity %:98 Min
Melting Point ℃:160-164
Ash %:0.05 Max
Volatility %:0.1 Max
Fe ppm:15 Max
Usage:
Antioxidant 300 is a highly efficient and multi-functional sulfur containing hindered phenolic antioxidant, It possesses excellent structure and dual effects of main and auxiliary antioxidants. It can achieve good synergistic effects when combined with carbon black. Antioxidant 300 has been used in PE/PP/ABS/PVC/EPDM, rubber, petroleum products and rosin resin.
Safety:
Please see our MSDS.
Packing:
Packing in 25kg drum
Packing in 20kg PE bag and 30dags per pallet.
Packing in 500kg bag with pallet
Storage:
To be stored in cool and ventilated warehouse, avoid direct exposure to sunlight.
WANOX 300 belongs to Zibo Wanke Chemical Co, Ltd. all
It is equivalent to the following products:
"Chemtura antioxidant TBM-6"
"Dragonox-TBM6"
"Flynox-TBM6"
"EURONOX R 300"
"CHINOX 300"
"Thanox 300"
"Lowinox TBM-6"
" Antioxidant BNX 358"
"Ethanox 300"
" SANTONOX TBMC"